A syndicated guest post by Alison Moffitt
My department has been working on a report for the last couple of months that was released to the media on Tuesday (November 10) as part of Anglicare's Christmas appeal launch. It's the first time that I have ever written something for the public, and even though very few people outside of the industry will read it, it was still kind of cool to have something out there that was covered in the news for a fleeting moment.
The report was an update on a larger report my co-workers put together in June. It was an analysis of trends among people who access emergency relief services from Anglicare - the kind of help that comes in the form of emergency financial assistance for people who are really struggling to pay bills and buy food. The previous report identified that
- single mothers
- indigenous people
- people in public housing
- people who lived alone
were
massively
overrepresented.
It also called for a better emergency relief model. Many single mothers, indigenous people, single person households and people in public housing struggle with many other social and financial issues that can't be addressed by giving them a food hamper or paying off an occasional electricity bill. The government currently only funds organisations like Anglicare for this kind of assistance. When emergency relief staff spend time helping people negotiate centrelink or helping people access counselling services, parenting classes, drug and alcohol programs, budgeting classes or
anything that isn't a financial transaction
, the organisation has to subsidise it themselves.
Our update happened because we got an extra 5 months of data which helped us see how the global financial crisis impacted on these people. Firstly, there were more of them. The demand for services increased, although we couldn't actually help many more people because we were already operating at capacity. The same sorts of people were accessing services but, they were coming with different problems. Many many more people were coming because they were having trouble securing housing, and many many more were presenting with unemployment.
If you want to check out the report,
you can find it here
.
If you are more of a visual person, you can look at the wordle instead: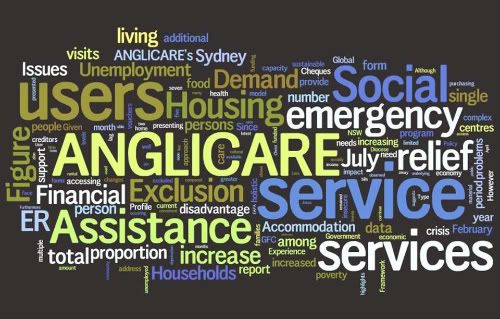 So on Tuesday, the report was made public, there were media releases and the report was covered by both
Fairfax
and
News Limited
with an identical story, although different headlines (having taken the story from AAP). I'm not sure how that works. This is my first experience like this, but somehow I wasn't surprised when the reports were dramatically incorrect. I am never complaining about poor journalism in the Sydney Anglican newspaper ever again. It has nothing on this. They just copied and pasted extracts of the Anglicare media release, and then got creative. They changed 'increased' to 'rocketed' and pulled out the biggest stats they could find from the media release. They also made up something about increasing requests for counselling and family services, even though (as I just mentioned) the only data we had was for people coming to financial assistance, and the media release was pretty straightforward about that. It's making me suspicious of most of what I have ever read in the newspapers.
This post is also available here.