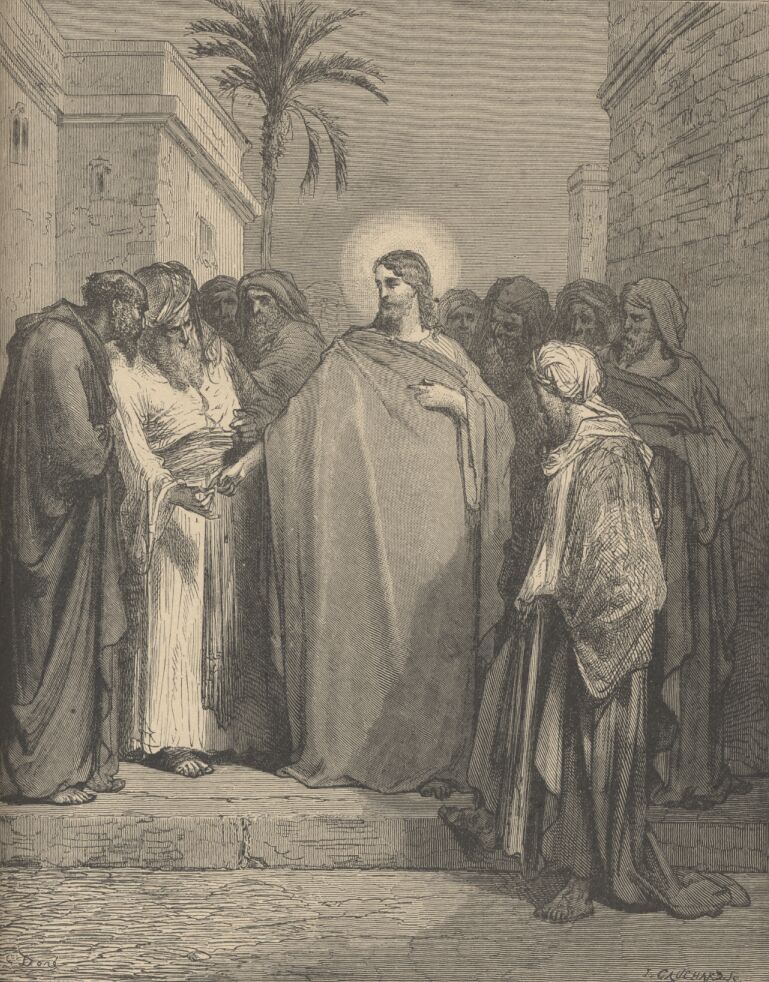 Israel was in crisis. Under the domination of Rome, the very promises and faithfulness of YHWH was being called into question. And the question every Jew asked themselves in the first century is 'What does it look to be faithful to God'? And it's into this national crisis that Jesus arrives on the scene. According to Marcus Borg:
We commonly think of Jesus as the founder of Christianity. But strictly speaking, this is not historically true. Instead, his concern was the renewal of Israel.
- Marcus Borg,

Jesus: A New Vision

, p. 125
What was Jesus on about? How did he understand his mission?
Jesus focused exclusively on Israel

:

"I was sent only to the lost sheep of the house of Israel." (Matt 15.24) and

"Go nowhere among the Gentiles and enter no town of the Samaritans,

6

but go rather to the lost sheep of the house of Israel." (Matt 10.5). Except for three exceptions, Jesus ministered only to Israelites, because his mission was to restore the lost in Israel and renew the nation.

Jesus announced the nearness of the kingdom

:

"The time is fulfilled, and the kingdom of God has come near; repent and believe in the gospel!" (Mark 1.15). The Kingdom of God is where God's climatic authority is known and done on earth as in heaven. Cf. Isaiah 40.

Jesus performed acts of power

: "

But if it is by the Spirit of God that I cast out demons, then the kingdom of God has come upon you." (Matt 12.28). Jesus enforced the Kingdom through his miracles, (but it wasn't quite the victory of God's enemies that Israel expected).

Jesus called and sent twelve

:

"You are those who have stayed with me in my trials,

and I assign to you, as my Father assigned to me, a kingdom,

that you may eat and drink at my table in my kingdom and sit on thrones judging the twelve tribes of Israel." (Luke 22.28-30). Jesus gathers twelve Apostles, a parallel of the twelve tribes of Israel. Except that these twelve are connected to Jesus, and through him the renewal the longed for would happen. This of course is not how they expected the renewal to happen, but they will be a part of it, sharing in the Kingdom and Jesus authority and reign.

Jesus ate with sinners and outcasts

: "And the scribes of the Pharisees, when they saw that he was eating with sinners and tax collectors, said to his disciples, 'Why does he eat with tax collectors and sinners?'

And when Jesus heard it, he said to them,

'Those who are well have no need of a physician, but those who are sick. I came not to call the righteous, but sinners.'" (Mark 2.16-17). Jesus welcomed the lost of Israel, those generally despised and referred to as "sinners." This did not fit into the program for the Pharisees. If we are called to holiness, they wondered, they why call the failures and worry about them.

Jesus announced God's grace (especially for the destitute)

:

"Blessed are you who are poor, for yours is the kingdom of God." (Luke 6.20).

Jesus taught a new way of living as God's people

:

But love your enemies, and do good, and lend, expecting nothing in return, and your reward will be great, and you will be sons of the Most High, for he is kind to the ungrateful and the evil.

Be merciful, even as your Father is merciful. (Luke 6.35-36). This was firstly about love and compassion before purity and 'righteousness' (although it was about these things too).
This is Jesus' program. It is
a profound Israel renewal movement in the light of the coming climax of God's dealing with his people
(which is also present now). It is a movement that is characterised by the reign of grace. The reign of grace is here, through Jesus and his people. For to us has been given the forgiveness of sins, and through us this is made known as Jesus' people live out this reality to their neighbours.
Focused exclusively on Israel, this was God's work of compassion to his people. And Jesus did this whilst symbolically taking over all claims of Israel. It is the renewal of Israel by reworking Israel in and around himself, so that what is true of Israel becomes true of Jesus, and vice versa. Israel is called a new start, a new beginning, and a new heart...'Love your enemies.' Israel is redefined, so that it is no longer racial or national, but is refocused by Jesus around himself.
This is crucial. No longer will the people of God be constituted by the Torah or circumcision. Because of the achievement of Jesus, they will be defined by faith in him. Or, to be exact, they will be defined by faith in his faithfulness, his loyalty to YHWH - the loyalty Israel had meant to show YHWH for a millennium. Now Jesus would step in and model the life of the true Israel, the life that would lead the death, even death on a cross.